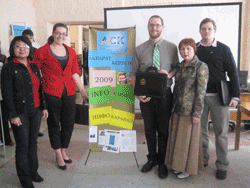 From April 2008 to April 2009, the American Resource Center and the Gogol Regional Research Library undertook a new initiative, Info Caravan, where members of the American Resource Centre visited other libraries throughout the Karaganda Oblast. The purpose of these visits was to promote language training throughout life, and the building of a trilingual Kazakhstan, knowing Kazakh, Russian and English.
Info Caravan visited five nearby libraries in seven cities: Shakhtinsk, Saran, Abai, Temirtau, Zhezkazgan, Satpayev and the Kievka settlement of the Nura district. Our visits brought together English teachers, local college students and librarians; reaching a total of 415 attendees.
The visits promoted libraries not only as a resource for information, but also as a center of community, international dialogue, and cultural exchange.
We inspired audiences to learn English, overcome the language barrier, and to pursue a greater knowledge and experience for their professional work. A key point of Info Caravan was collaborating with U.S. Peace Corps Volunteers (PCV), who helped us to organize and carry-out the library visits. The Volunteers bring to the library's English resources exposure to native speakers, and exposure to a larger perspective and understanding of the English language.

The Info-Caravan presentations included:

Working groups included: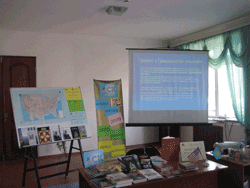 American Cultural Prompts, by Patricia Houck, PCV
Interesting Classroom Activities, by Corinne Huber, PCV
Communicative Approach and Games in the Classroom, by Robert Brewer
Interdisciplinary Investigation of America, by Aiman Zhamankulova, Coordinator of the American Cultural Centre, Ust-kamenigorsk
Games in Teaching English, by Marianne Midwinter and Jackie LaBerge, PCVs
English Lessons for the Library, by Thomas Montague, PCV, and two student teachers, and by Drew Boggs, PCV, in Zhezkazgan
Speaking English in the Library, by Nick Huber, PCV, in Satpayev
The Role of Libraries in Our Lives, by Blake Kent, PCV
Why Do We Study English?
InfoUSA 2007-2008 Your Guide to the USA CD presentation, by Blake Kent, PCV
The Info-Caravan reached both English students and teachers, and librarians on how to improve their language and community programs. Participants learned more about the American Corner in Karaganda; about its resources and opportunities; the PCVs and their mission and work; and the benefits of collaboration with PCVs.
English teachers received a copy of the 2 CD "InfoUSA 2007-2008, Your Guide to the USA." Additionally, each library received a collection of roughly 50 books from the U.S. Embassy in Astana. Teachers from distant areas got information about the SUSI program and on support available for promoting English from the U.S. Department of Education.
Copyright © 1999–2010, Karaganda Regional Universal Research Library named after N.V.Gogol