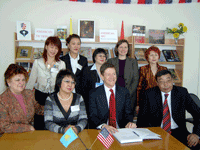 American resource center has opened its doors on initiative the USA Embassy in Kazakhstan and with support of Karaganda Regional department of culture. Memorandum of understanding between the public affairs section of the U.S. Embassy in Almaty and the Karaganda oblast universal scientific library was signed in September 2005.
During this time PAS provided equipment such as computers, CDs and DVDs and other information materials on whole price $25, 000. Book collection includes editions upon history, culture, literature studying concerning the USA. A special feature of our collection is numerous books about American art and painting.
American resource center works in collaboration with Peace Corps Volunteers, Information Services of the USA Embassy, Teachers of English in Karaganda Association, Departments of foreign languages at the Universities and colleges. We have Women's English speaking club, and "Viva lingua"- club. One can have access to DB EBSCO, Internet. American resource center And its collections are free to everyone's disposal.
American center in Karaganda is only part of long- term the Department of States' program on opening American Corners in different parts in Kazakhstan.
American resource works in accordance with Program development of education in Republic of Kazakhstan 2005- 2010 on promotion English language in the area. And also on promotion literature about American life and institutions.
The expected results of American resource center activities.
Compiling book and electronic collections in English for specialists and teachers of Educational institutions for improvement professional skills.
Creating book stock in English focused on the USA and other English speaking countries.
Providing free access to references, electronic DBs and Internet for the users.
Promotion literature on the U.S. economy, policy, culture and art among the users of regional research library named after N.V. Gogol American resource center activities dealing with significant abd important events of the USA .
Increase mutual understanding between Kazakhstan, Karaganda and the United States. Gogol Library becomes an active educational center.
Results:
We've compiled a nice collection in English for improvement professional skills of our users.
And give to our users free access to references, electronic DBs and Internet for the users.
We have English club' sessions every day and their topics reflect holidays of the USA and Kazakhstan, State symbols, cultural tolerance and others. Peace Corps Volunteers are mostly the moderators of our activities. The American Corner's benefits include an active partnership with IREX to disseminate information about the Eurasian Undergraduate Fellowship program(Global UGRAD) and the Edmund S. Muskie Graduate Fellowship program (MUSKIE) and to serve as an official application collection center and Eurasia/South Asia Teaching Excellence and Achievement Program. We also work in collaboration with ACTR/ACCELS. Thanks to all mentioned above items we have a considerable increase in number of visits and American corner users.
Rezume 2008
During 2008 American resource center has been working in accordance with the Library program «Америкамен танысыңыз»-"America on my mind". Thanks to great support of Peace Corps Volunteers we have chosen some ways of activity interesting for our users.
YES!-club (Youth English Section)
Club" Volunteering with NGO"
Current event discussion group
English movie group
Collaboration with IREX
Info- Caravan
Summer Workshop for High school teachers
Statistics
As of January 1st, 2009
Users -1000 people
Total number of people participated in Programs =6866 people
Visits to the American resource center -7620 people
Quantity of the fulfilled Programs(events)=340
Copyright © 1999–2010, Karaganda Regional Universal Research Library named after N.V.Gogol